Flippy Cubby - Tablet Pillow Stand and iPad Holder for Lap, Desk and Bed ...
$34.98
Flippy Tablet Pillow Pad & Soft Ipad Stand Looking for a super functional stand that is more like a comfortable pillow than a piece of hardware? Flippy Cubby is the answer! The Flippy pillow pad tablet stand offers 3 distinct viewing angles. From sitting, lying down, or even standing, this tablet stand will let you read in optimum comfort. It also makes a great car iPad stand or book pillow for those long drives, or can hold your phone during FaceTime calls or video creation. The tablet holder is compatible with all kind of devices from tablets to mobile phones such as kindle, e-readers, books, iPad Pro 12.9, 11, 10.9, 10.2, Air and Mini, Samsung Galaxy iPhone 13, 13 pro and 12 and other smart phones, so everyone can join in on the Flippy fun! Super lightweight yet sturdy enough to handle the heaviest tablets, e-Readers, and books, and convenient for folks of all ages. Flippy Cubby also has an ingenious storage cubby that is perfect for power cords, ear buds, reading glasses, cough drops, and maybe dog treats?   Designed by an Optical Scientist and product development specialist, this elegant solution is the result of hundreds of prototypes and hours of research and effort. It's simply the most terrific tablet stand you can purchase. You won't be disappointed!   Now with Storage! - Keep your reading glasses, tissues, ear phones, snacks and anything else you like handy with the new Flippy with storage cubby. 3 VIEWING ANGLES - Get comfortable, then let Flippy do the work of holding your tablet or book at the best angle for you. Rotate Flippy for 3 distinct viewing angles for every reading position and change in lighting: your lap, sitting upright, or lying flat. SOFT, STURDY, LIGHTWEIGHT – Flippy with Cubby is made of lightweight foam with an ultra-suede cover for a sturdy and flexible design that weighs only ounces. The cubby storage is covered with a color complimenting mesh that closes with a cordlock.The plush polyester exterior is extra soft and can be wiped off with a damp cloth. TABLETS, E-READERS, iPADS – Flippy with Cubby tablet pillow is compatible with most tablets, e-readers, smartphones, and reading materials including: iPad mini, air, pro, iPad 1 - 4; Samsung Galaxy tablets, Kindle, HTC, LG, Nokia Lumia, OnePlus, Dragon Touch & Google Nexus, kids tablets, books, magazines, textbooks - you name it! SMART DESIGN - Designed by an optical engineer to provide 3 different viewing angles has 3 sides of specific height & angle: 8.5" (49°) x 7.9" (70°) x 6.6" (61°), 11.5" in length. TECH GIFT – Flippy with Cubby is a year round tablet accessory gift for iPad, e-reader, tablet, and book lovers. On the couch, in the kitchen with a cookbook, reading in bed, doing homework in the car, Flippy is terrific for readers of all ages.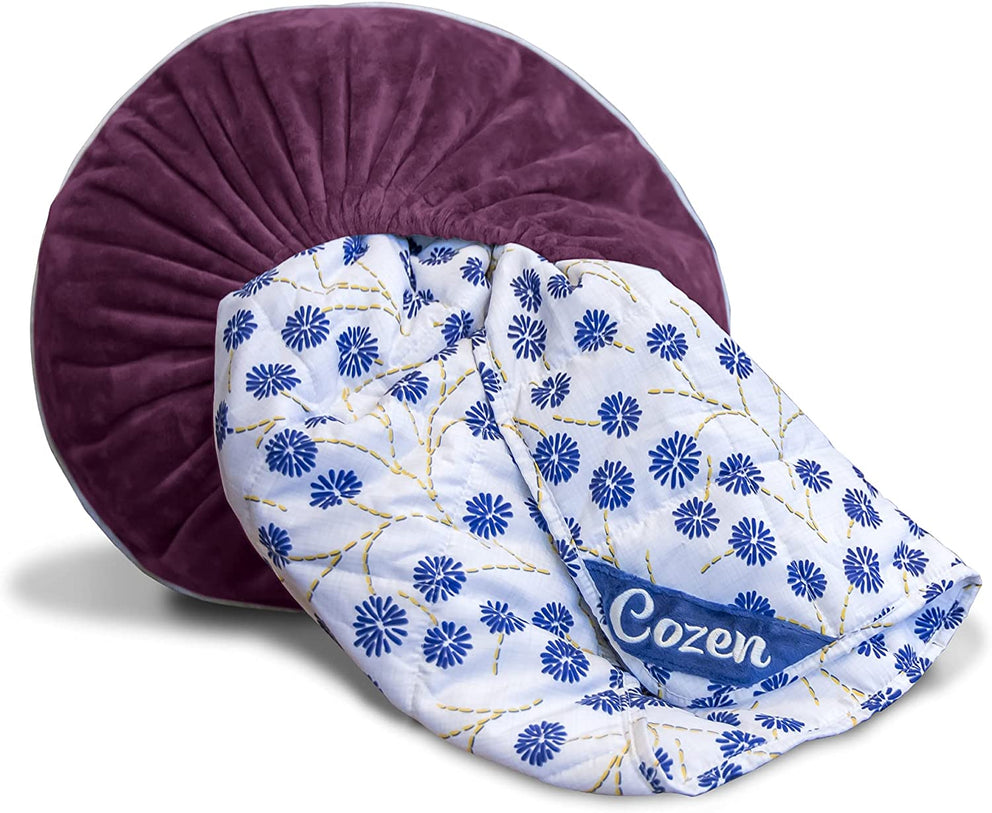 Portable Travel Pillow Blanket - Throw Pillow Converts to Blanket - 2 in ...
$59.98
Both throw pillow and blanket: Simply open Cozen, slide your feet through and a comfortable blanket emerges. Zip it up, and it is now the perfect throw pillow. No need for an extra storage bag. Soft, comfortable, and crafted with quality: Cozen's interior quily is made of a warm & durable yet soft synthetic material, which will stand the test of time. It will warm you up quickly from toes to torso. The crafted design of Cozen's exterior pillow surface is both delicate and elegant. Perfect size, Weight & Machine Washable: The Cozen weighs 1.3 lbs and when unfolded, the size of the quilt is 52 inches by 72 inches. It is warm and thick enough to keep your toes, legs, and body warm . If it gets dirty, it is machine washable. Stashable and Stowable, a more convenient throw pillow/blanket alternative: With a cinch pull storage system, it can be easily transformed from blanket to pillow and back in seconds! Perfect for the living room/bedroom/childre's room/travel/camping/plane: The Cozen will have a lot of use, put it on the sofa of the living room, it is a beautiful sofa throw pillow, if you feel cold when watching TV, you can open it as a blanket; If you want to taking a lunch break at the office, it is the perfect partner; When you want to rest in the car, it can keep you warm.